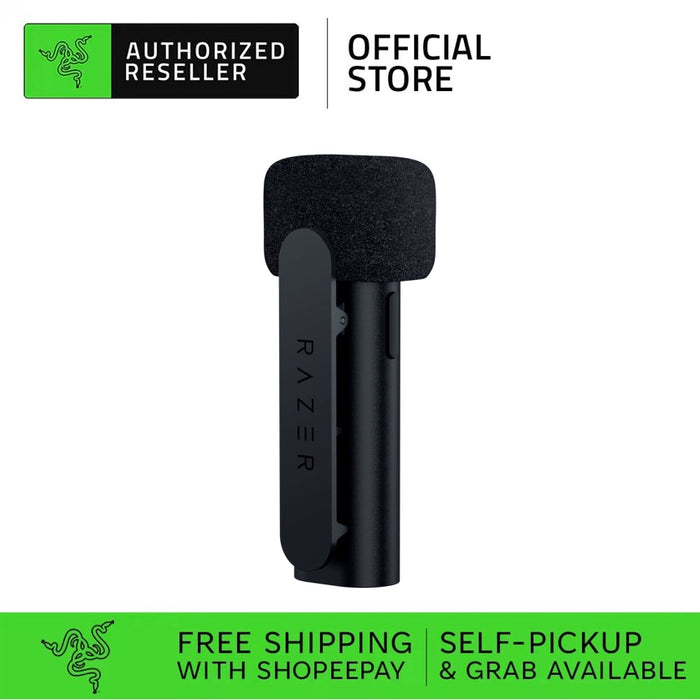 Razer Seiren BT Bluetooth Microphone for Mobile Streaming
Save

0

%
Save %
Original price
RM0.00 MYR
-
Original price
RM0.00 MYR
Original price
RM0.00 MYR
RM539.00 MYR
-
RM539.00 MYR
Current price
RM539.00 MYR
With the Razer Seiren BT, clarity is wherever you want your content to be. Whether indoors or outdoors, enjoy the freedom to entertain from anywhere as you maintain perfect vocal clarity with a compact clip-on Bluetooth microphone ideal for IRL streaming and vlogging.
Product Features:
Omnidirectional Microphone: for crisp, natural vocals at any angle
With the ability to capture your voice clearly from any direction, you won't have to constantly talk into the mic, allowing for more freedom and flexibility especially when you're on the move.
Powerful Noise Suppression and Customization with the Razer Streaming App (Mobile)
Enable enhanced indoor/outdoor noise suppression to block out noise like strong winds or noisy crowds, and use the app to adjust mic gain, view battery life, and get software updates.
Wireless, Ultra-light Clip-on Design: ideal for mobile content creation
Weighing just 16.4g, it'll barely feel like you're wearing a mic at all. Plus, its hands-free design gives you the freedom you need to shoot at any camera angle with your phone.
Seamless Home-based Vlogging for flexible streaming at or away from your PC
Instead of being limited to recording at your desk, the bluetooth mic allows you to freely move about so you can create more naturally-flowing content that requires less editing and set up.
Indoor & Outdoor Windsocks to reduce wind noise and popping
The Razer Seiren BT comes with a fur windsock ideal for use in outdoor environments and a foam windsock for indoor settings.
Compatible with IRL Streaming Apps and other Bluetooth-device-enabled streaming apps
As a specialized IRL streaming accessory, the Razer Seiren BT is engineered to work with Bluetooth-device-enabled IRL streaming applications which enable you to go live from your smartphone.
Product Specifications:
•    Microphone Type: Ø6mm ECM Omnidirectional microphone
•    Frequency Response: Supports Bluetooth Wideband Voice
•    Recording: mSBC, AI Clarity Technology
•    Wireless Connection: Bluetooth 5.2
•    Protocol: A2DP, HFP
•    Audio Interface: 3.5MM Jack (Auto detection 3 pole TRS, 4 pole TRRS)
•    Full Charge Time: 
        o    About 1.5h
•    Working Time: 
      o    About 6h (Bypass Recording Mode)
      o    About 4h (AI default Recording Mode)
      o    About 11h (A2DP)