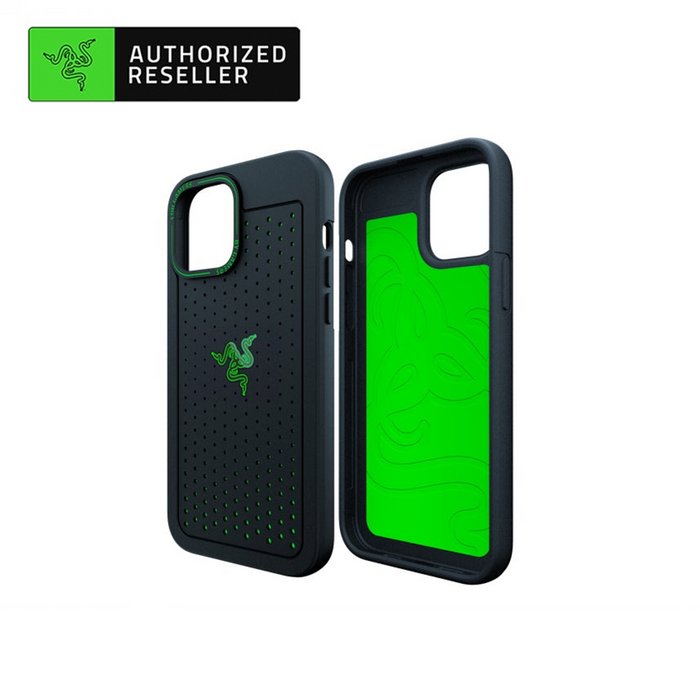 Razer Arctech Black for 2021 iPhone 13
Sold out
Original price
RM79.00 MYR
-
Original price
RM179.00 MYR
RM79.00 MYR
-
RM179.00 MYR
Current price
RM79.00 MYR
RAZER ARCTECH - Extra Ventilation Channels - Thermoplastic Elastomer (TPE) Reinforced Corners - Soft-touch Finish with Anti-bacterial Coating - Tactile Side Buttons - Compatible with Wireless Chargers and 5G 
PROTECT. ENHANCE. PROLONG. 
Whether you're looking to protect your phone or maximize its performance, cover all angles with the new Razer Arctech. With extra ventilation channels and TPE-reinforced corners to improve its protective, heat-dissipating design, our 3rd-gen smartphone case ensures you'll never lose your cool. 
EXTRA VENTILATION CHANNELS 
With more perforations than its previous design, the Razer Arctech allows heat generated from your phone to escape easily rather than stay trapped like in traditional cases. 
THERMOPLASTIC ELASTOMER (TPE) REINFORCED CORNERS 
Thanks to strengthened corners enhanced with a tough polymer mix, the case is now even more durable and can withstand drops that might otherwise result in costly screen repairs or device replacement. 
SOFT-TOUCH FINISH WITH ANTI-BACTERIAL COATING 
The case has a grippy texture that not only makes it easier to hold and prevents accidental drops, but also comes with a layer of protection that prevents the growth of bacteria during daily use. 
TACTILE SIDE BUTTONS 
The side buttons for both the Razer Arctech and Razer Arctech Pro have been improved with greater tactile feedback, allowing for convenient control that feels even more satisfying. 
COMPATIBLE WITH WIRELESS CHARGERS AND 5G 
Charge your phone using Apple MagSafe and Qi wireless charging pads without having to remove the case, as you enjoy unhindered 5G speeds for cloud gaming and video streaming platforms.