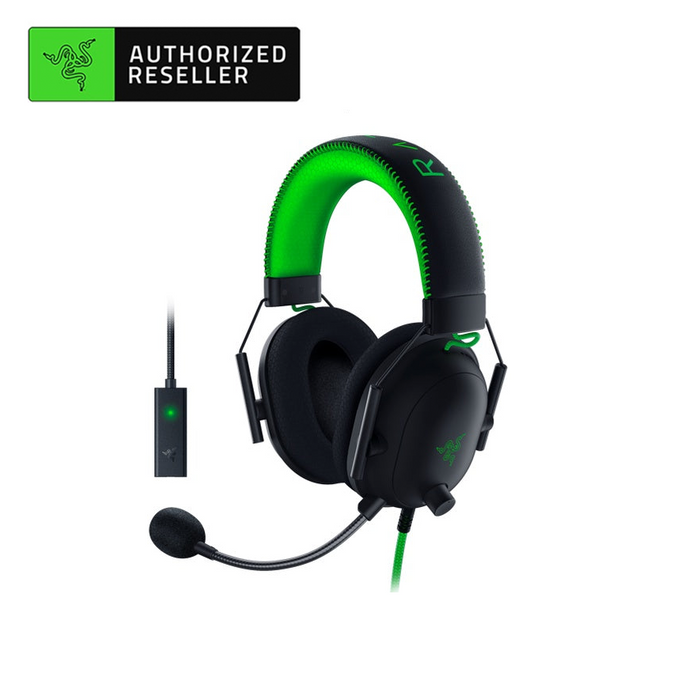 Razer BlackShark V2 - Special Edition - Multi-platform Wired Esports Headset
Sold out
Original price
RM519.00 MYR
Original price
RM519.00 MYR
-
Original price
RM519.00 MYR
Original price
RM519.00 MYR
Current price
RM389.00 MYR
RM389.00 MYR
-
RM389.00 MYR
Current price
RM389.00 MYR
2 Years Warranty

THE SOUND OF ESPORTS
If esports is everything, then give it your all with the Razer BlackShark V2. With an esports headset that's a triple threat of amazing audio, superior mic clarity and supreme sound isolation, your time to turn pro is now.
RAZER™ TRIFORCE TITANIUM 50MM DRIVERS
Our all-new patented design allows our engineers to custom tune each driver as though there are three—allowing for the individual replications of high, mid and low audio frequencies to deliver on richer trebles, brighter sound and powerful bass.
The Razer BlackShark V2 also includes titanium-coated diaphragms, giving added clarity to any vocals you hear so that any comms you receive is always crisp and clear.
RAZER™ HYPERCLEAR CARDIOID MIC WITH USB SOUND CARD
Offering greater speech pickup and noise cancellation, the removable mic on this esports headset has an optimized microphone housing which adopts a more open design for minimal obstruction—resulting in improved clarity for a closer recreation of your voice.
Supported by a USB sound card, you can tweak and enhance your voice output further via Razer Synapse, with access to features such as Mic Boost, Voice Gate, Volume Normalization, Mic Equalizer and Ambient Noise Reduction.
ADVANCED PASSIVE NOISE CANCELLATION
From cheering crowds to the hum of your rig, shut noise out and enjoy uninterrupted focus with special closed earcups that fully cover your ears, aided by plush cushions that form a perfect seal for greater sound isolation.
FLOWKNIT MEMORY FOAM EAR CUSHIONS
Our new breathable weave minimizes sweat and heat build-up generated by skin contact, while the ultra-soft foam's improved density greatly reduces the headset's clamping force.
THX SPATIAL AUDIO
Increase your immersion and in-game awareness with next-gen surround sound that provides pinpoint positional accuracy and true-to-life acoustics, as you press your advantage with its latest feature: THX Game Profiles. Apply custom-tuned profiles that enhance existing sound design in your favorite games. Choose between THX Environmental Mode for truly lifelike immersion, or THX Competitive Mode for greater spatial awareness.
CROSS-PLATFORM COMPATIBILITY
This esports headset connects using a 3.5mm jack or through its USB sound card. The 3.5mm jack works across popular platforms, allowing you to seek out competition on PC, Mac, PS4, Xbox One, Nintendo Switch and mobile devices (with 3.5mm port)
Tech Specs
FREQUENCY RESPONSE: 12 Hz – 28 kHz
IMPEDANCE: 32 Ω (1 kHz)
SENSITIVITY: 100 dBSPL/mW, 1 kHz
DRIVER SIZE - DIAMETERS (MM): 50 mm
DRIVER TYPE: Razer™ TriForce Titanium
EARCUPS: Breathable memory foam cushions
INNER EARCUP DIAMETER: 2.56" x 1.57" | 65 mm x 40 mm
EARPADS MATERIAL: Ultra-soft FlowKnit memory foam
NOISE CANCELLING: Advanced passive noise cancellation
CONNECTION TYPE: Analog 3.5mm with USB sound card
CABLE LENGTH: 1.8 m / 5.91 ft.
WEIGHT: 0.6 lbs / 262 g
MICROPHONE STYLE: Razer™ HyperClear Cardioid Mic
PICK-UP PATTERN: Unidirectional
MICROPHONE FREQUENCY RESPONSE: 100 Hz – 10 kHz
MICROPHONE SENSITIVITY (@1KHZ): -42 dB V/Pa, 1 kHz
VIRTUAL SURROUND ENCODING: THX Spatial Audio
VOLUME CONTROL: On-earcup: Volume Up/ Down
OTHER CONTROLS: On-earcup controls - Mic mute on/off toggle
LIGHTING: N/A
COMPATIBILITY: PC, Mac, PS4, Xbox One, Nintendo Switch and mobile devices*
*Mobile devices with an available 3.5mm port