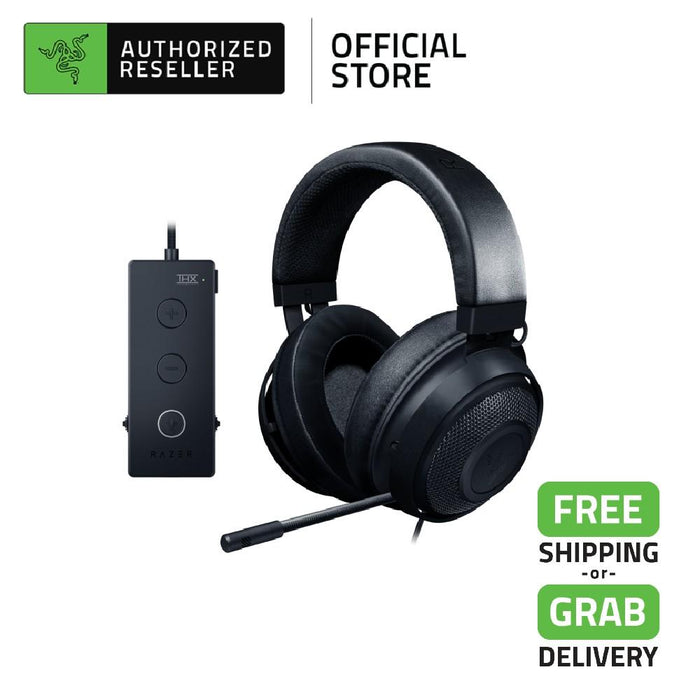 Razer Kraken Tournament Edition Wired Gaming Headphone with USB Audio Controller
Sold out
Original price
RM479.00 MYR
-
Original price
RM479.00 MYR
Original price
RM479.00 MYR
RM479.00 MYR
-
RM479.00 MYR
Current price
RM479.00 MYR
Razer Kraken Tournament Edition [2 Years Warranty]
• Full Audio Controls
• THX Spatial Audio
• Game/Chat Balance
• Custom-Tuned 50 mm Drivers
• Ergonomic Design
• Cross-Platform Compatibility
Technical Specifications:
• Frequency response: 12 Hz – 28 kHz
• Impedance: 32 Ω @ 1 kHz
• Sensitivity (@1 kHz): 109 ± 3 dB
• Input power: 30 mW (Max)
• Drivers: 50 mm, with Neodymium magnets
• Inner ear cup diameter: 56 mm / 2.2 in
• Connection type: Analog 3.5 mm
• Ultra-durable Kevlar™ reinforced cable
• Cable length: 1.3 m / 4.27 ft.
• Approx. weight: 322 g / 0.71 lbs
• Oval ear cushions: Designed for full-ear coverage with cooling gel, perfect for long-wearing comfort
• Microphone Frequency response: 100 Hz – 10 kHz
• Microphone Impedance: 32 Ω @ 1 kHz
• Microphone Signal-to-noise ratio: > 60 dB
• Microphone Sensitivity (@1 kHz): -42 ± 3 dB
• Microphone Pick-up pattern: Unidirectional ECM boom
• In-line control Analog volume control wheel
• Microphone quick mute toggle
• Devices with 3.5 mm audio jack
• PC with USB port; PlayStation 4**
**Only 2.0 audio available on PS4
• Audio + Microphone Usage: Devices with 3.5 mm audio + mic combined jack
• USB dongle with Vol up/down, Bass up/down, THX Spatial On/Off*, Mic mute, Game/Chat balance*
• Cable length: 2.0m
Product Features: 
a) COMPETE WITH CONTROL
Sound isn't just a mere experience—it heightens your senses. When you know exactly where the enemy is positioned, you're the one to set up the ambush. Your sense of hearing becomes a weapon, allowing you to master the in-game environment as you maneuver with the slightest sound cues. Unleash your predatory instincts now through accurate positional audio from all around you.
b) THX SPATIAL AUDIO
The Razer Kraken Tournament Edition is the first gaming headset to introduce THX Spatial Audio—creating realistic depth by simulating positionally-accurate sound in a 360° sphere around you for greater awareness in your in-game surroundings. 
c) CUSTOM-TUNED 50MM DRIVERS
Combining powerful bass with clear audio, the custom-tuned 50 mm drivers unveil a world full of soundscapes, from subtle footsteps sneaking up behind you to climatic explosions for mind-blowing gaming audio.
d) The perfect mix of game and chat volume
One of the biggest peeves in gaming is when team communication gets interrupted by the sound of battle and vice-versa. The Razer Kraken Tournament Edition features a new Game/Chat Balance so you can tune between game and chat audio for the perfect mix of immersion and communication.
e) The power of bass in your hands
Every gamer has a preference when it comes to bass. The Razer Kraken Tournament Edition comes with Bass Control at 17 adjustable levels, so you can find the most suitable intensity for play.