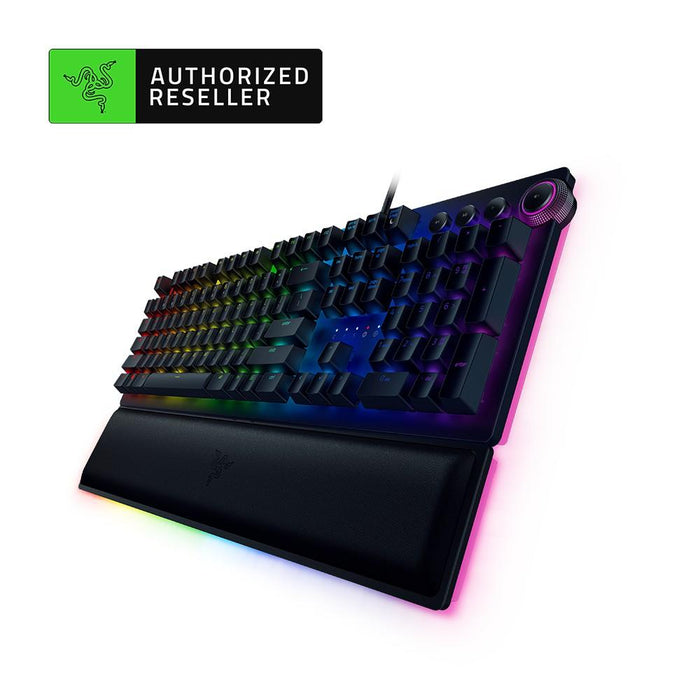 Razer Huntsman Elite Opto-Mechanical Gaming Keyboard
Save

0

%
Save %
Original price
RM1,189.00 MYR
-
Original price
RM1,189.00 MYR
RM1,189.00 MYR
-
RM1,189.00 MYR
Current price
RM1,189.00 MYR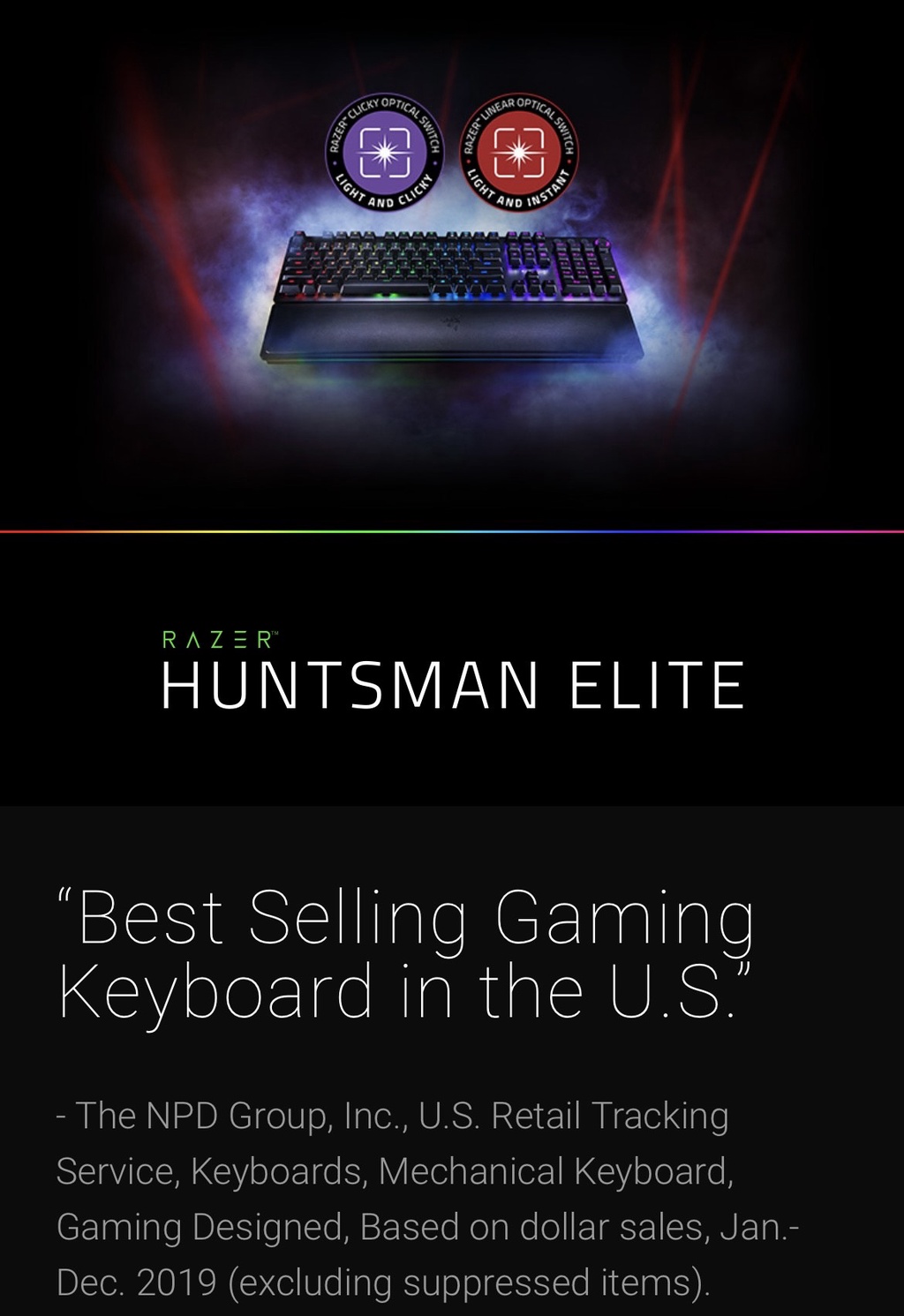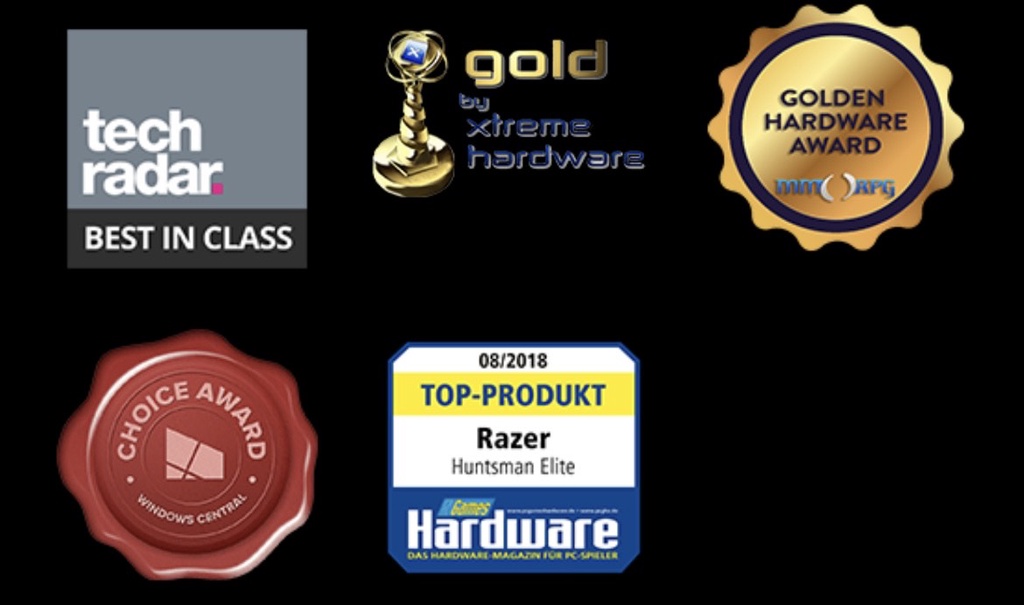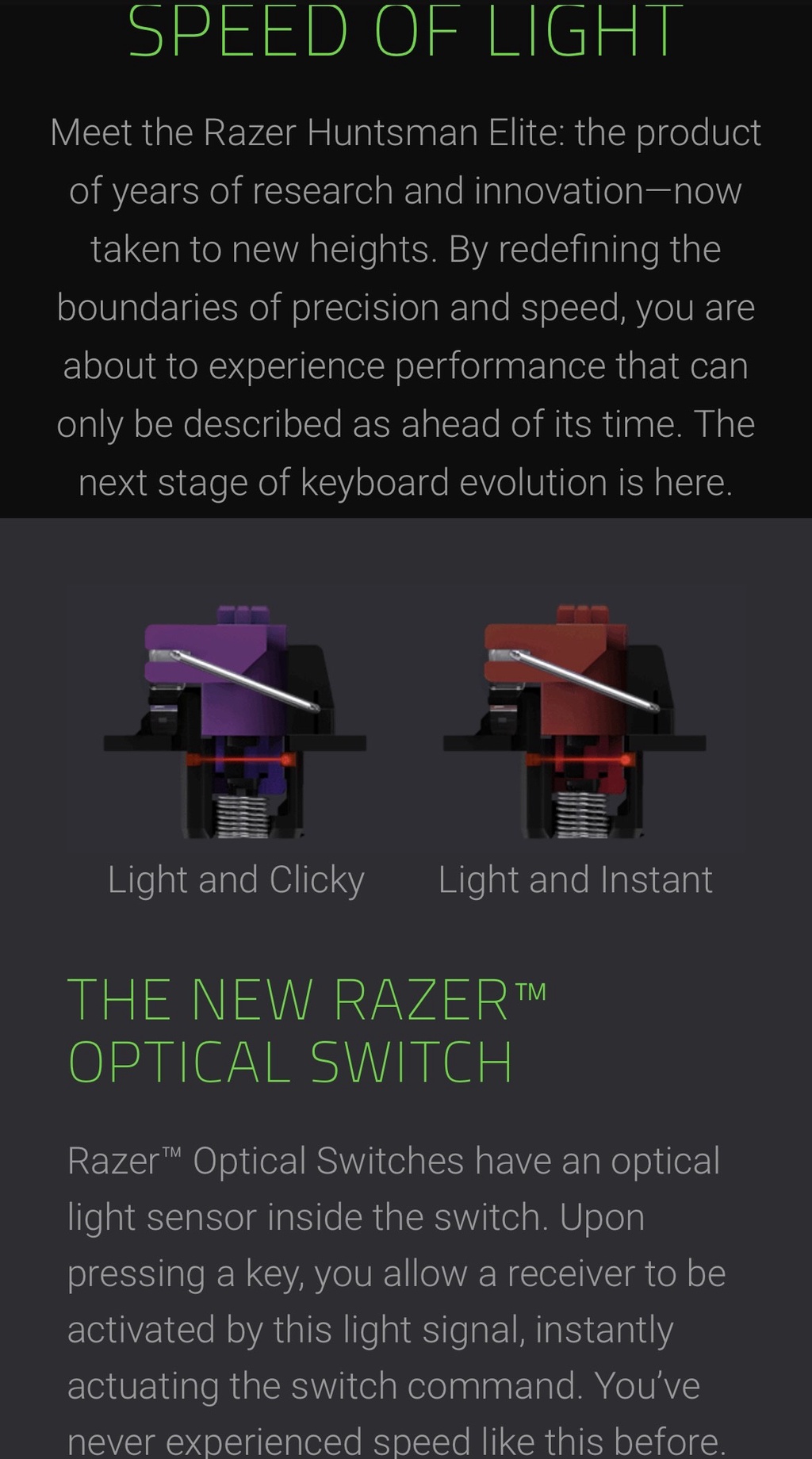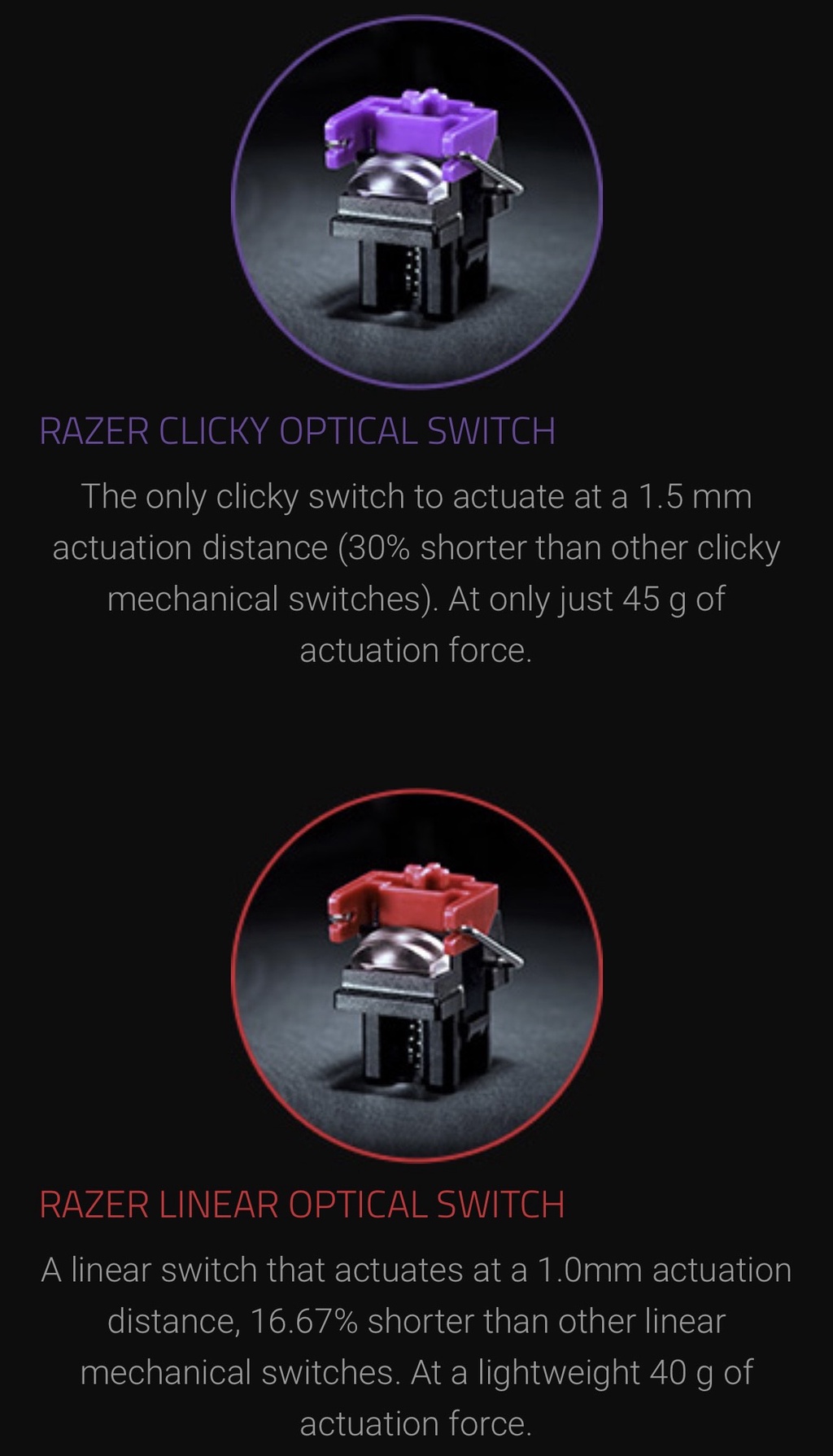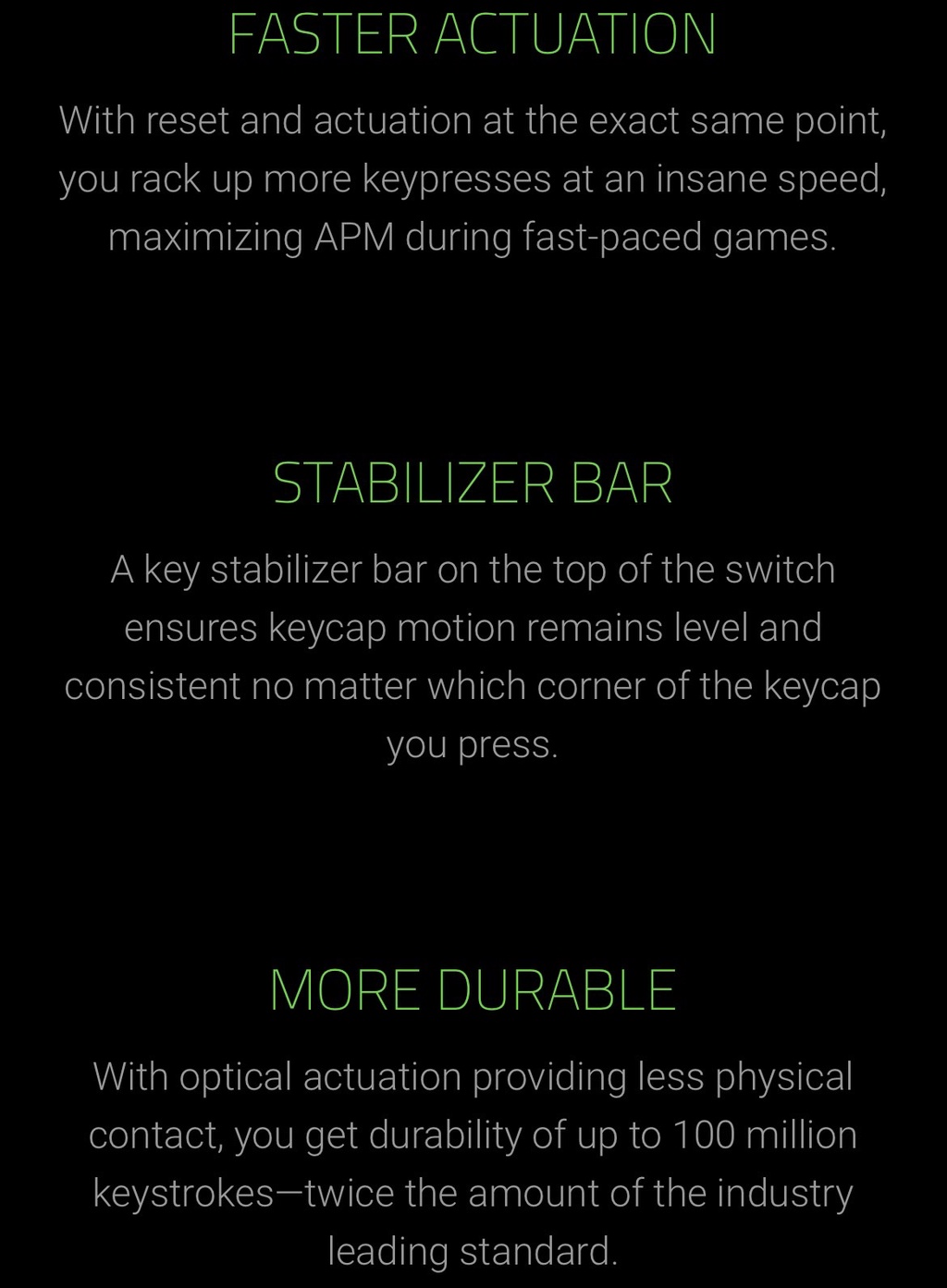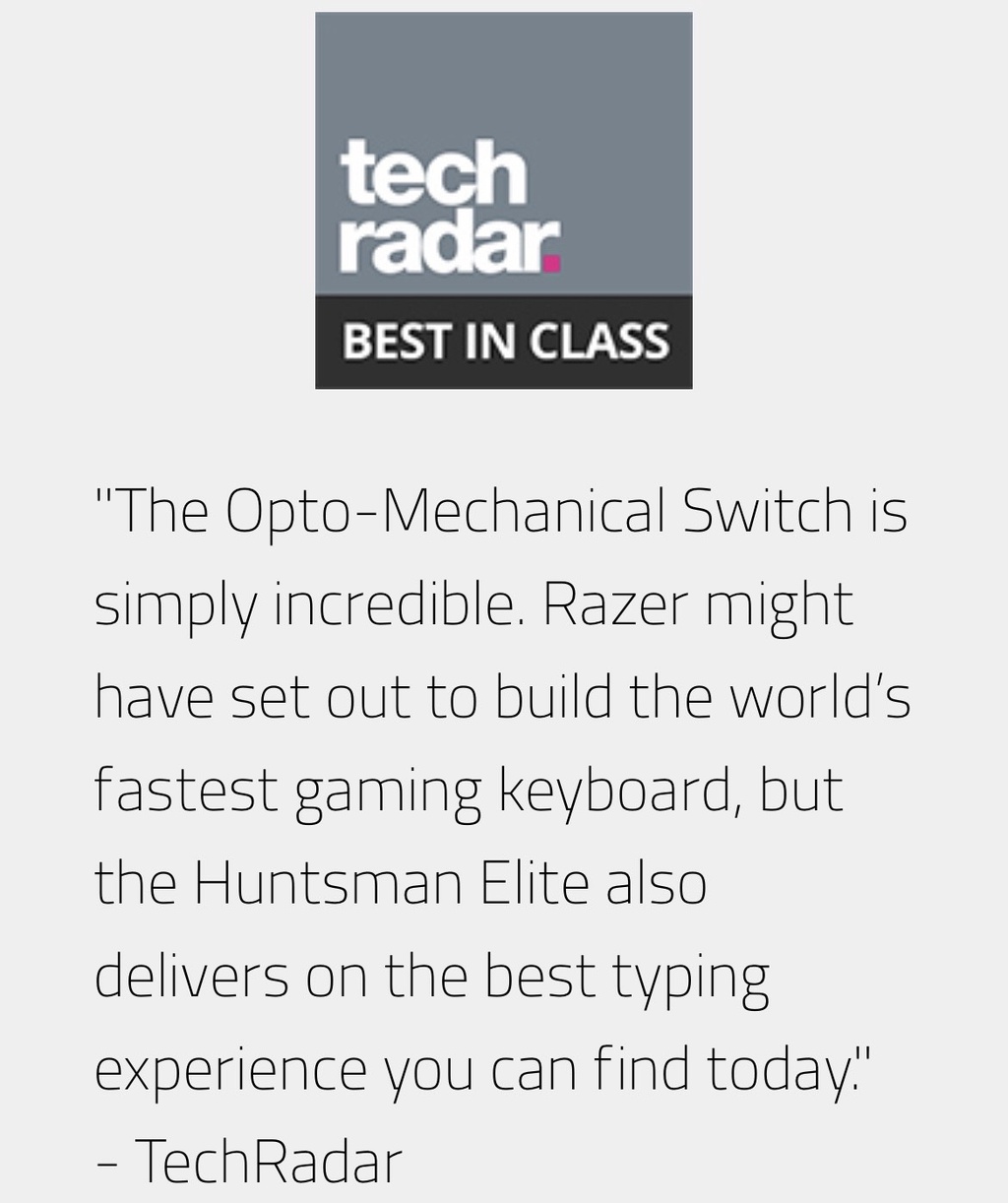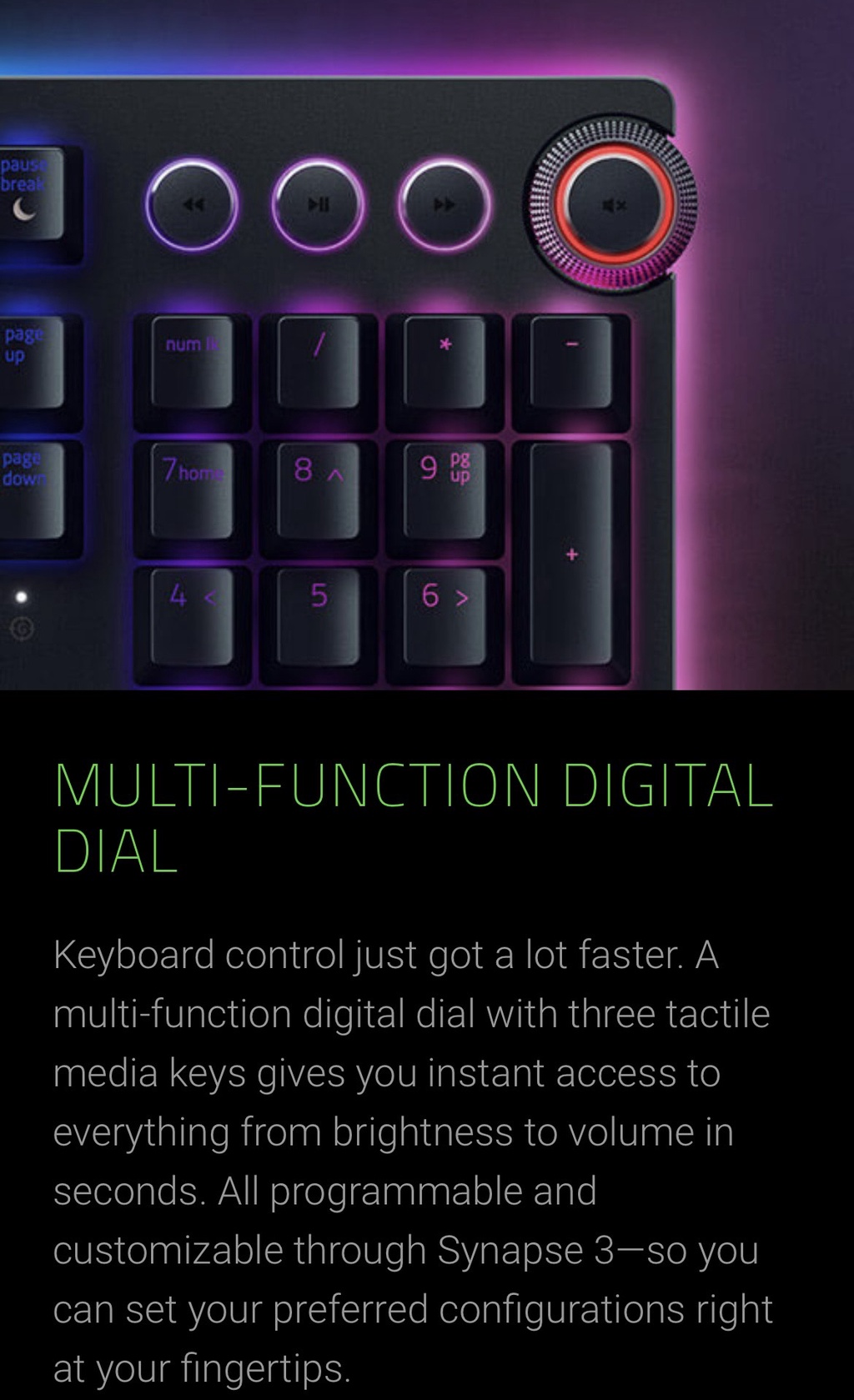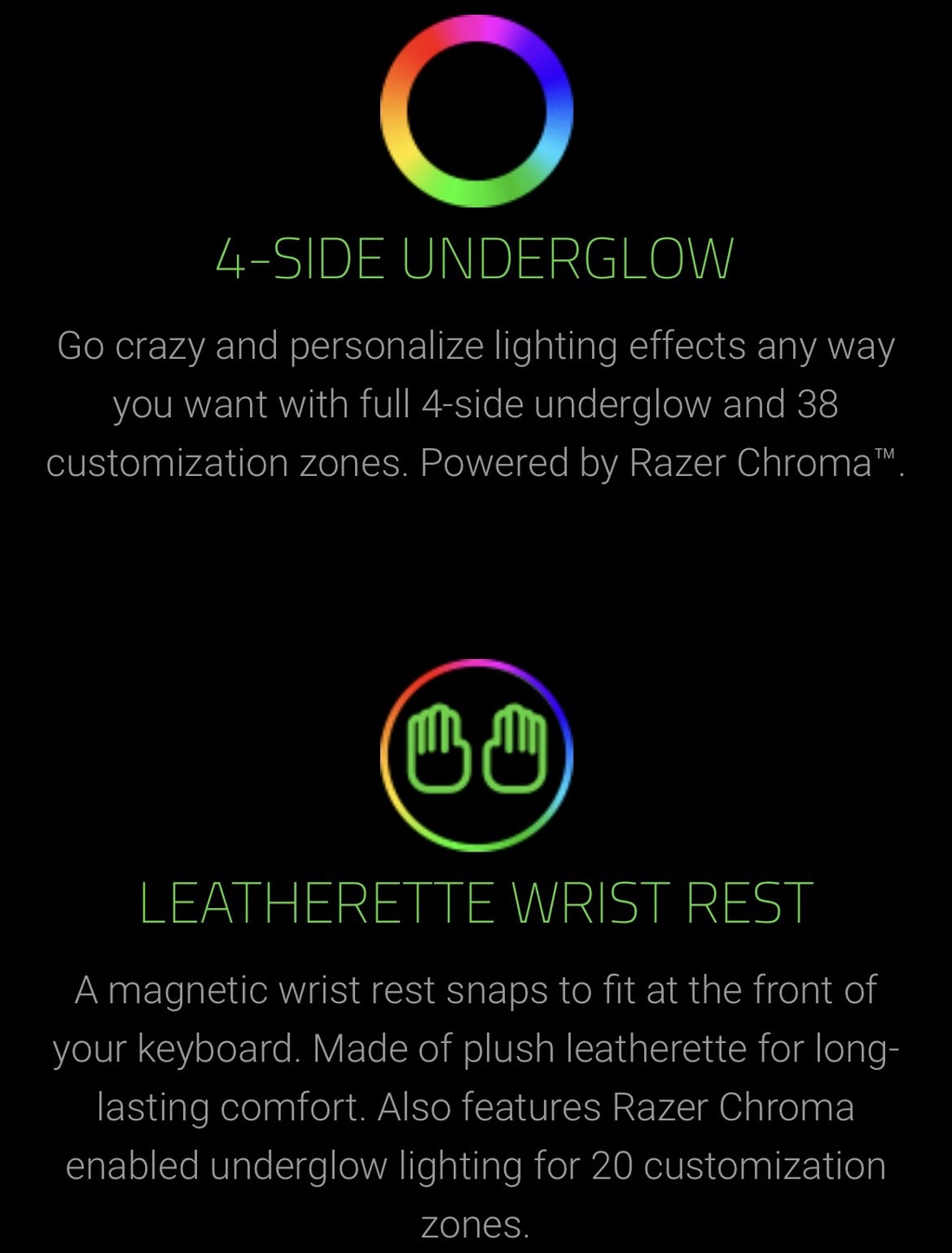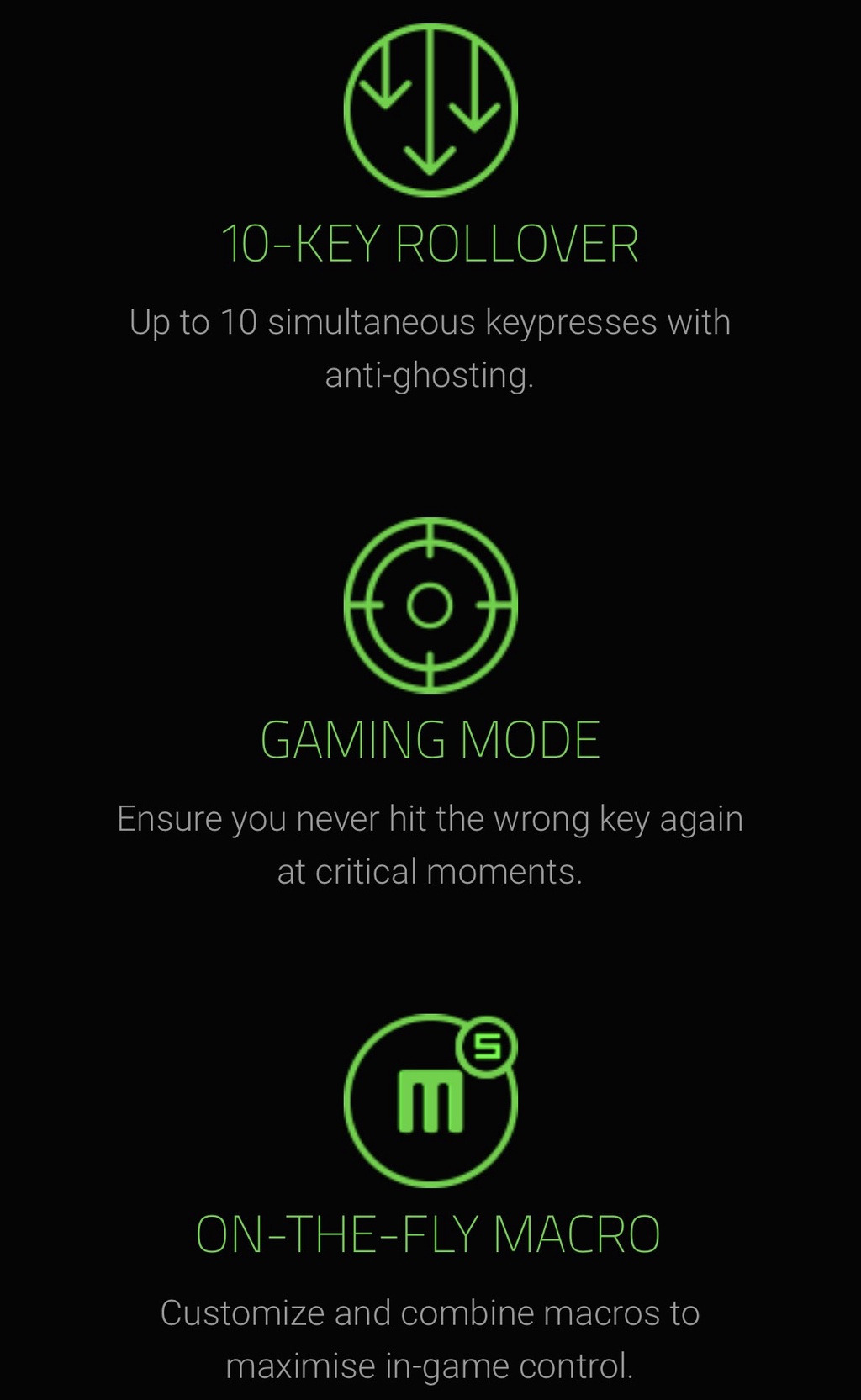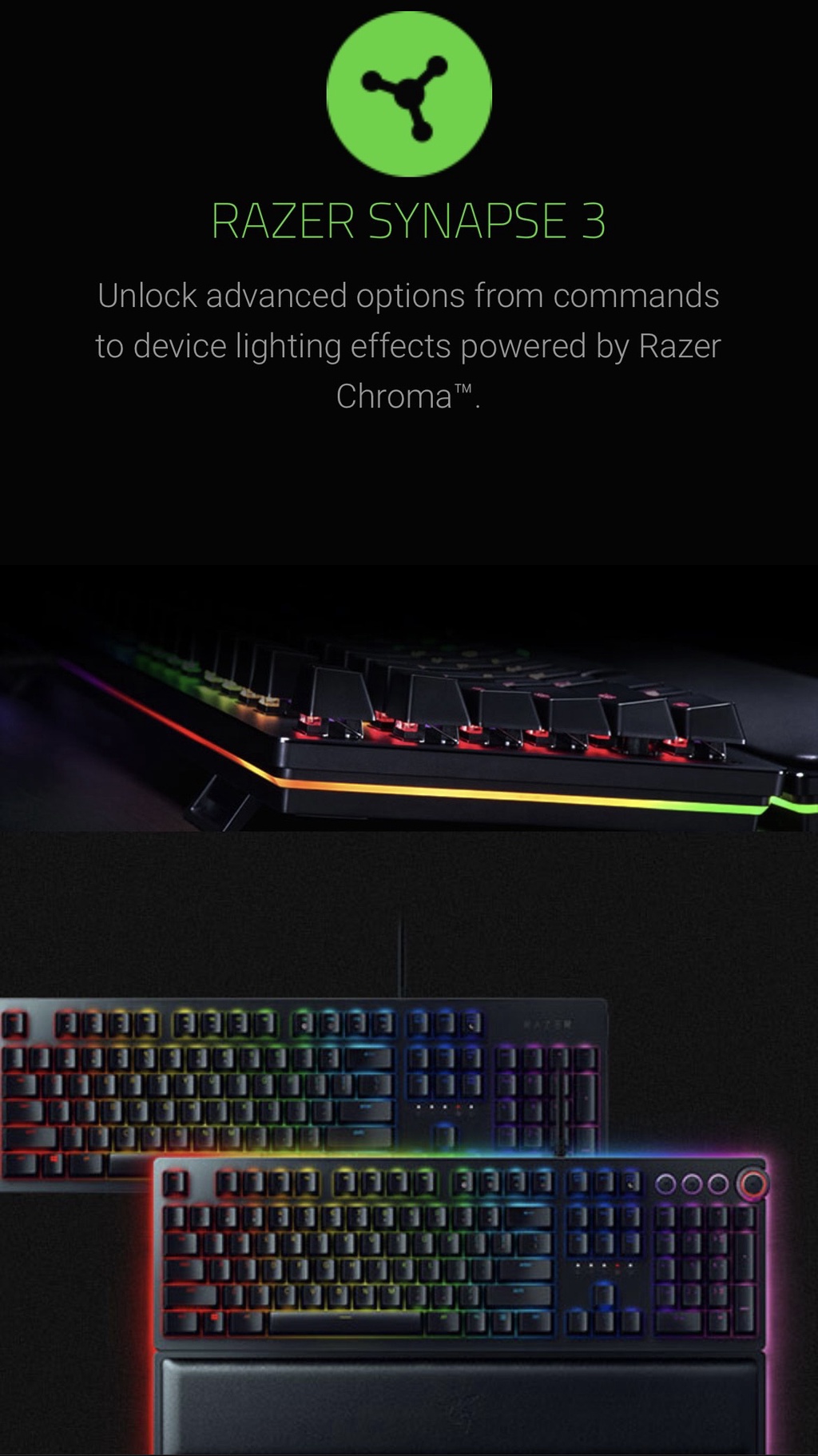 Razer Huntsman Elite - Clicky Optical Switch [2 Years Warranty]
• New Razer™ Optical Switch
• Razer™ Clicky Optical Switch
• Multi-Function Digital Dial
Technical Specifications:
• Razer™ Opto-Mechanical Switch with 45 G actuation force
• 100 million keystroke lifespan
• Chroma backlighting with 16.8 million customizable color options
• Underglow lighting with 38 customization zones
• Ergonomic Wrist Rest with 20 customization zones underglow
• Multi-functional digital dial
• Dedicated media controls
• Hybrid onboard storage – up to 5 profiles
• Razer Synapse 3 enabled
• Fully programmable keys with on-the-fly macro recording
• 10 key roll-over with anti-ghosting
• Gaming mode option
• Braided Fiber Cable
• 1000 Hz Ultrapolling
• Aluminum matte top plate
• Compatible with Xbox One for basic input
Product Features:
a) SPEED OF LIGHT
Meet the Razer Huntsman Elite: the product of years of research and innovation—now taken to new heights. By redefining the boundaries of precision and speed, you are about to experience performance that can only be described as ahead of its time. The next stage of keyboard evolution is here.
b) THE NEW RAZER OPTO-MECHANICAL SWITCH
Razer Opto-Mechanical™ Switches have an optical light sensor inside the switch. Upon pressing a key, you allow a receiver to be activated by this light signal, instantly actuating the switch command. You've never experienced speed like this before.
c) FASTER ACTUATION
With reset and actuation at the exact same point, you rack up more keypresses at an insane speed, maximizing APM during fast-paced games.
d) LIGHT & CLICKY
Get the familiar, clicky feedback you love, while enjoying how every keypress is super light and balanced. Truly the best of both worlds.
e) STABILIZER BAR
A key stabilizer bar on the top of the switch ensures keycap motion remains level and consistent no matter which corner of the keycap you press.
f) MORE DURABLE
With optical actuation providing less physical contact, you get durability of up to 100 million keystrokes—twice the amount of the industry leading standard.
g) MULTI-FUNCTION DIGITAL DIAL
Keyboard control just got a lot faster. A multi-function digital dial with three tactile media keys gives you instant access to everything from brightness to volume in seconds. All programmable and customizable through Synapse 3—so you can set your preferred configurations right at your fingertips.
h) 4-SIDE UNDERGLOW
Go crazy and personalize lighting effects any way you want with full 4-side underglow and 38 customization zones. Powered by Razer Chroma™.
i) LEATHERETTE WRIST REST
A magnetic wrist rest snaps to fit at the front of your keyboard. Made of plush leatherette for long-lasting comfort. Also features Razer Chroma enabled underglow lighting for 20 customization zones.
j) HYBRID ON-BOARD MEMORY & CLOUD STORAGE
Rebind buttons and save all profile configurations with easy cloud storage, or up to 5 profiles with hybrid on-board memory.