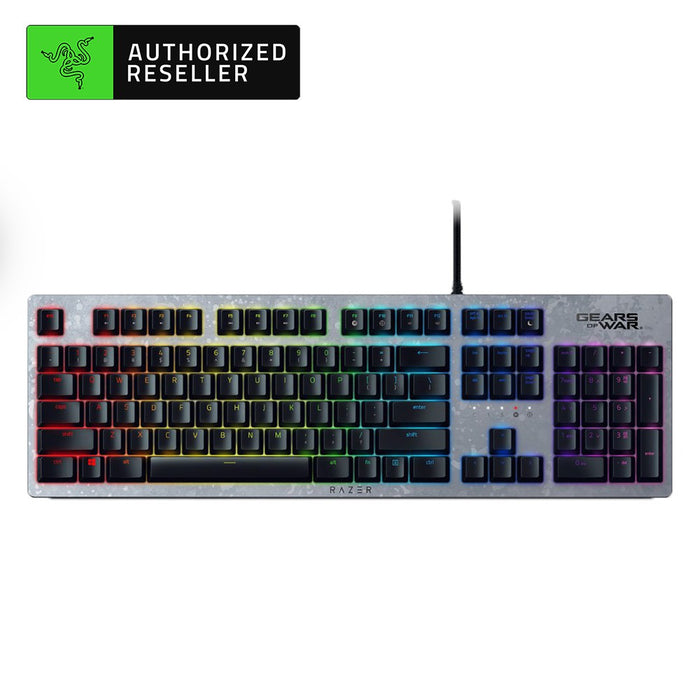 Razer Huntsman Gears of War 5 Edition - PC Gaming Opto Mechanical Switch Keyboard
Sold out
Original price
RM799.00 MYR
-
Original price
RM799.00 MYR
Original price
RM799.00 MYR
RM799.00 MYR
-
RM799.00 MYR
Current price
RM799.00 MYR
Razer Huntsman Gears 5 Edition - US
Officially Licensed Gaming Keyboard for Gears 5
• New Razer™ Optical Switch – Light and Clicky
• Key stabilizer bar for precise, balanced actuation
• Hybrid on-board memory and cloud storage
The New Razer Opto-Mechanical Switch
The new Razer Opto-Mechanical Switches utilize optical technology for actuation, combined with a new switch design for actuation at the speed of light. And with optical actuation providing less physical contact, you get durability of up to 100 million keystrokes.
Optical Actuation
With optical actuation enabling reset and actuation at the exact same point, you rack up more keypresses at an insane speed especially useful for gamers who need tap keys repeatedly.
Key Stabilizer Bar
A key stabilizer bar on the top of the switch ensures keycap motion remains level and consistent no matter which corner of the keycap you press. Experience the familiar clicky feedback of a mechanical keyboard with no resistance during actuation, keeping every keypress super light and balanced.
Hybrid On-Board Memory and Cloud Storage
Rebind buttons, assign macros, and automatically save all your profile configurations with cloud storage. And if you're without internet access, simply save up to 5 profiles via hybrid on-board storage.
Unrivaled Durability
Razer switches have been known for their durability – and it just got better. With optical actuation providing less physical contact, Razer Opto-Mechanical Switches eliminate switch degradation almost completely, allowing extended durability of up to 100 million keystrokes.
Razer Synapse 3
Take the Razer Huntsman further with the unified configuration tool. Access advanced options like rebinding buttons and setting macros, down to getting device lighting exactly the way you want—all with Razer Synapse 3.