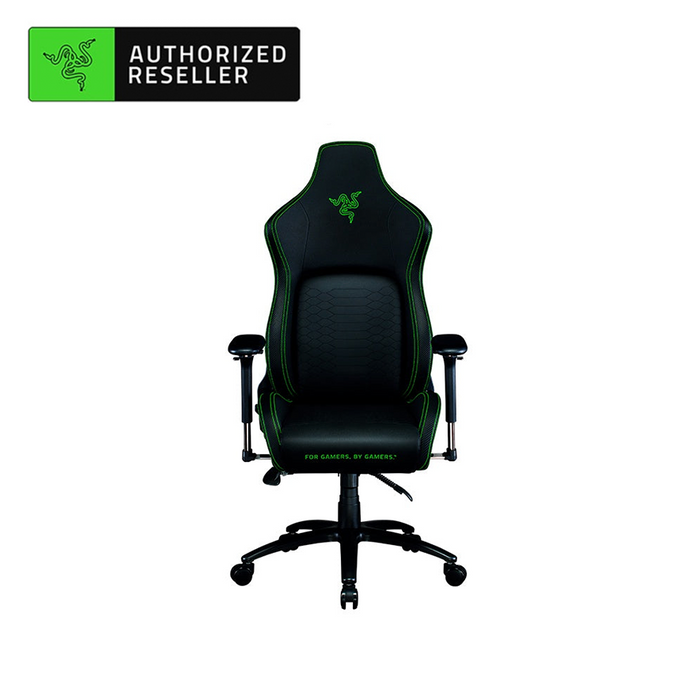 Razer Iskur - Gaming Chair
Save

11

%
Save

11

%
Original price
RM2,099.00 MYR
Original price
RM2,099.00 MYR
-
Original price
RM2,099.00 MYR
Original price
RM2,099.00 MYR
Current price
RM1,859.00 MYR
RM1,859.00 MYR
-
RM1,859.00 MYR
Current price
RM1,859.00 MYR
🐍 Razer Iskur 🐍 Gaming Chair with Built-in Lumbar Support 
✅ Fully sculpted lumbar support 
✅ Multi-layered synthetic leather 
✅ High density foam cushions 
→ Ergonomic Lumber Support System: Enjoy total lower back support with a built-in, fully adjustable lumbar curve that closely aligns to your spine—ensuring ideal posture for maximum comfort in gaming marathons. 
→ Multi-Layered Synthetic Leather: Tougher and more durable than standard PU leather, the chair comes wrapped in multi-layered PVC synthetic leather—making it better suited to withstand the wear and tear from hours of daily use. 
→ High Density Foam Cushions: The denser, durable cushions have a plush feel and offer better contouring, allowing your weight to apply just enough pressure as they mold to support your unique body shape. 
→ 4D Armrests: Adjust the armrests' height, angle and move them forwards or backwards for a position tailored to the way you sit. 
→ Engineered to Carry: Able to support a weight of up to 136kg through a combination of its body frame, armrests and wheelbase, the chair also features angled seat edges to maximize its resting surface area. 
TECH SPECS 
RECOMMENDED WEIGHT : < 130 kg 
RECOMMENDED HEIGHT : 174 cm to 181 cm 
SIZES : M 
CHAIR COVER COLOR : Black and Green 
CHAIR COVER MATERIAL : PVC Leather 
BASE : 5-star metal powder coated 
FRAME : Metal & Plywood 
ARMRESTS : 4D 
CASTERS : 6 cm Caster Wheel 
GAS LIFT CLASS : 4 
FOAM TYPE : High Density Molded Foam 
ADJUSTABLE BACK ANGLE : 139 Degrees 
ADJUSTABLE LUMBAR CUSHION : Yes, Fully Sculpted Lumbar Support 
ADJUSTABLE HEADREST : Yes 
WARRANTY LENGTH : 3 years warranty for mechanisms and moving parts. (not including wear and tear) Limited Warranty: 
The Razer Iskur is free from defects in workmanship, materials and construction for three years from the date of purchase. In the event that a defect is found, the manufacturer will either repair or replace the defective item, at its discretion. Exclusions and Limitations: This Limited Warranty does not cover cosmetic damage, minor cosmetic abnormalities and normal wear and tear, including without limitation scratches, dents, discoloration and tears in the head pillow, seat cushion, PU leather, Armrest and stiches of the upholstery. **KINDLY PLACE ANOTHER ORDER SEPARATELY IF YOU WANT TO ADD ON ANOTHER ITEM. PLEASE DO NOT INCLUDE THE ADD ON ITEM TOGETHER WITH YOUR ISKUR ORDER. THANK YOU.**