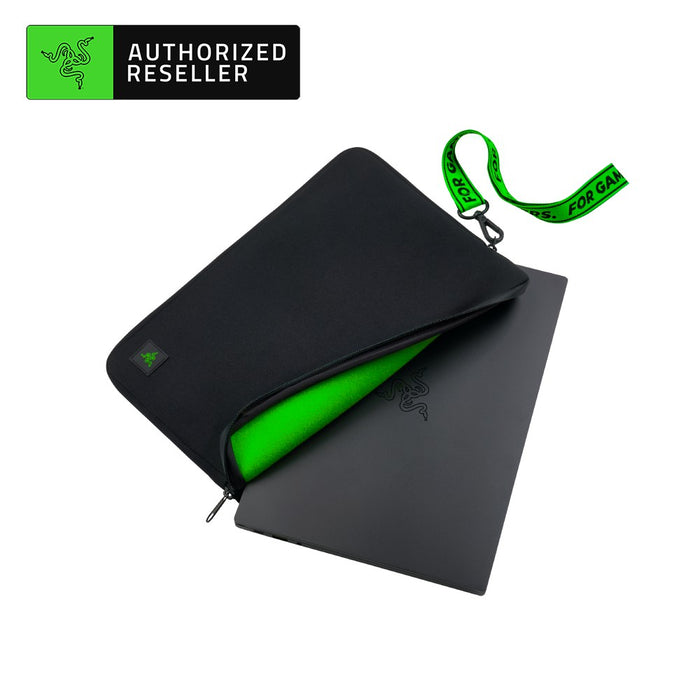 Razer Neoprene Sleeve V2 - For 13.3" Notebooks
Sold out
Original price
RM0.00 MYR
-
Original price
RM0.00 MYR
Original price
RM0.00 MYR
RM199.00 MYR
-
RM199.00 MYR
Current price
RM199.00 MYR
Razer Neoprene Sleeve V2 - For 13.3" Notebooks
Ultra-Sleek Protection for the Razer Blade Stealth 13
✅ Protective Exterior and Padded Interior
✅ Custom fit for the Razer Blade Stealth 13
✅ Ultra-slim profile
a) PROTECTIVE EXTERIOR AND PADDED INTERIOR
Made of tough, water-resistant Neoprene, the sleeve protects your notebook from damage caused by impact or abrasion, while keeping your investment safe from the elements.
b) CUSTOM FIT FOR THE RAZER BLADE STEALTH 13
Made to measure, every inch of the sleeve is designed to perfectly accommodate your Razer Blade Stealth 13, so you can carry the winning edge wherever you go.
c) ULTRA-SLIM PROFILE
Equipped with a sleek silhouette, the sleeve fits notebooks up to 13.3" and fastens them in with a zipper closure that keeps your gear securely in place, no matter where you are.
d) PORTABLE DESIGN
Designed to complement your mobile gaming lifestyle, the sleeve's compact form factor feels great in your hands, and fits snugly into similarly sized backpacks, making portability a breeze.
e) WATERPROOF ZIPPER TAPE
For complete weather protection, the sleeve comes with waterproof zipper tapes to keep your notebook fully insulated from the elements.
f) DETACHABLE WOVEN STRAP
Unzip the sleeve with ease with a striking, detachable woven strap that proudly shows where your loyalties lie.