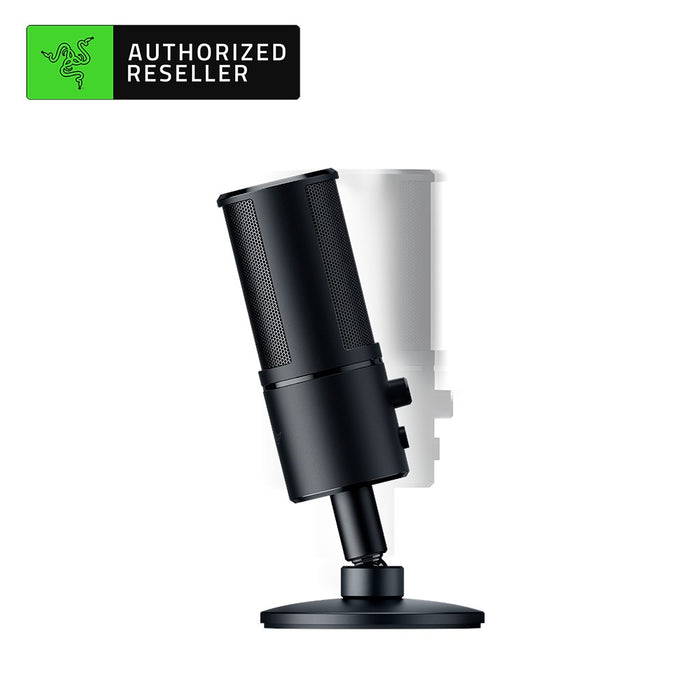 Razer Seiren Emote USB Live Streaming Microphone Emoji LED
Sold out
Original price
RM0.00 MYR
-
Original price
RM0.00 MYR
Original price
RM0.00 MYR
RM769.00 MYR
-
RM769.00 MYR
Current price
RM769.00 MYR
Razer Seiren Emote [2 Years Warranty]
• Stream Reactive Emoticons
• 8-Bit Emoticon Led Display
• Hypercardioid Condenser Microphone
• Built-in shock mount
• Interchangeable gooseneck
Technical Specification:
• Power required / consumption: 5V 500mA
• Sample rate: min 44.1kHz / max 48kHz
• Bit rate: 16bit
• Capsules: Ø25mm condenser capsules
• Polar patterns: Hypercardioid
• Frequency response: 100Hz–20kHz
• Sensitivity: 20mV/Pa (at 1kHz)
• Max SPL: 110dB (THD < 1% at 1kHz)
• Impedance: ≥ 16Ω
• Power output (RMS): 110mW (at 16Ω)
• THD: < 0.1% (at 1kHz)
• Frequency response: 20Hz – 20kHz
• Signal-to-noise ratio: ≥ 100dB
• 8 x 8 RGB LED Matrix
• Compatibility: Windows 7, 8, 10, Twitch, Streamlabs, XSplit, Mixer
Product Features:
a) STREAMING HAS A NEW ICON
Wow your followers and take your showmanship to new heights with the Razer Seiren Emote—the world's first USB microphone that uses emoticons to interact with your audience. Express yourself with a dose of freshness and fun, as you say it in a way that's more than just words.
b) STREAM REACTIVE EMOTICONS
With the Streamer Companion App, add a new level of audience interaction and have emoticons trigger on the Razer Seiren Emote during different parts of your stream. From new followers and subs, to donations and keywords in chat, decide when and what emoticons appear to best suit your style of streaming.
c) 8-BIT EMOTICON LED DISPLAY
Setting itself apart from other broadcast USB microphones, the Razer Seiren Emote has an 8-bit Emoticon LED Display powered by our Emote Engine, which includes a huge collection of over 100 animated and static emoticons.
d) HYPERCARDIOID CONDENSER MICROPHONE
At its core, the Razer Seiren Emote is a USB microphone designed to record crystal clear, broadcast quality audio. Utilizing a hypercardioid pickup pattern, it's focused and sensitive enough to capture the nuances of your voice, picking up the smallest shifts in tone while eliminating any background noise that might bring down your stream's sound quality.
e) BUILT-IN SHOCK MOUNT
Accidental knocks and bumps can happen whenever things get exciting. The built-in shock mount nerfs vibrations, so your stream remains smooth and uninterrupted.
f) INTERCHANGEABLE GOOSENECK
The Razer Seiren Emote comes with a flexible microphone extender for added height and easy adjustments to find the sweet spot for your voice.
g) PLUG AND PLAY
This PC microphone works right out of the box with no complicated setups needed. Simply plug it in for your computer to recognize it to start streaming.
Where do I get the Streamer Companion App?
You can download the Streamer Companion App under the "Lighting" tab for the Seiren Emote in Synapse 3. Alternatively, you can go to https://www.razer.com/streamer-companion-app for a direct download.